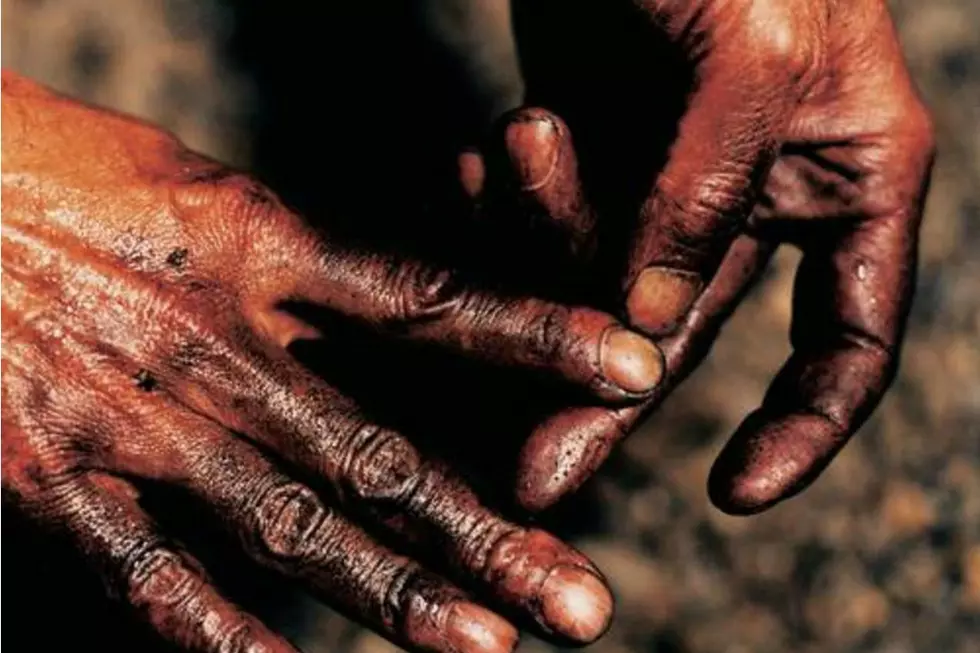 How Jeff Beck Continued His Wild Experiments on 'You Had It Coming'
Epic
Jeff Beck returned with a electronics-assisted sound at the end of the '90s, after taking a hiatus from solo recording for much of the decade. But his follow-up eighth studio LP didn't simply echo the experiments found on Who Else! in 1999.
You Had It Coming doubled down on them. Who Else! used electronic sounds and textures in fairly subtle ways. An album later, Beck's guitar was the main ingredient in an aggressive cacophony of programming and chopped-up samples.
Beck's foray into electronics came at a trendy time, but his motivations had less to do with sales than a desire to tap into a different side of his songwriting and playing. Working in tandem with producer Andy Wright and programmer Aiden Love, Beck used technology to build himself a playground where he could perform spontaneously — guitar first, songs later.
"The whole idea of the album was that we didn't want to use any prewritten songs," the late Beck later argued. "They were all brewed in the studio, in an editing suite, which was a part of the writing process. What I wanted to get away from was the sort of formulated, contrived sound. I wanted kind of a wild house party, you know."
The lack of constraints allowed Beck to work his way through You Had It Coming in a relatively brief period — roughly a month — that stood in stark contrast to the creative quagmire he'd found himself in for much of the '90s. With Who Else!, Beck had been reinvigorated by guitarist Jennifer Batten, who joined his band and injected fresh energy into his music. Batten was still part of the lineup for You Had It Coming, and contributed the opening track "Earthquake." Love was arguably this album's key contributor, however, and filled the role of younger player who pushed Beck to deliver his best work.
"We didn't have time to brood over riffs or anything. It was just balls-out guitar playing and a bit of slick editing on the part of somebody who knows what they're doing," Beck told Fuzz magazine back then. "What was really invaluable was the fact that this guy had no previous knowledge of me, really. He's one of the younger guys, he knew me as a guitar player, but he didn't really know track names or anything like that."
Listen to Jeff Beck's 'Earthquake'
Released on Feb. 6, 2001, You Had It Coming hums with a swaggering disregard for convention, reasserting Beck's still-vital presence in the rock-guitar pantheon while forcibly removing itself from the aesthetic of his classic earlier work. As its sneering title suggests, this is one of Beck's more aggressive works. His leads buzz, grind and soar over and against programmed beats in a collision of new and traditional sounds that nods to the past – as with a twisted take on the blues classic "Rollin' and Tumblin,'" featuring distinctive vocals from Imogen Heap – while forging into the digital unknown.
"We were building songs out of a click track, just a grain of sand," Beck told Classic Rock in 2008. "At one point, I copied a blackbird song. I used to hear one in an apple tree outside my window when I was a child, and that melody was so whistle-able. So we bought a CD of birdsongs and slowed the blackbird song right down so that I could pick out the melody. Then I transposed it onto a bottleneck."
Contemporary reviews for You Had It Coming were mostly kind, and he earned a Grammy for the Heap-assisted "Dirty Mind." But as with most Beck releases since 1976's Wired, the LP wasn't much of a sales phenomenon. You Had It Coming peaked at No. 110 in the U.S., and missed the charts entirely in Beck's native U.K.
He'd later concede that working with such a heavily programmed sound made it easy to get bogged down in the infinite possibilities of post-production and edits. For now, however, Beck continued to explore electronic sounds with his next release, 2003's Jeff, while assuring more traditionally minded fans that You Had It Coming might actually offer a more purely distilled version of his creative vision – even if it didn't have a great deal in common with the records they remembered.
"If nothing else, we were coming out with some original ideas of mine – and the guitar is still in the face," Beck told Fuzz. You Had It Coming "enabled me to find who I am a little bit more. Rather than trying to interpret someone else's custom made songs, you know. So this is my first album, really! We'll start here, thank you very much!"
Jeff Beck Photos: Highlights From the Guitar Virtuoso's Career
Few other artists made such a seismic impact on the medium.
Was Jimmy Page Almost Part of a New Supergroup?
More From KLUB Tejano 106.9