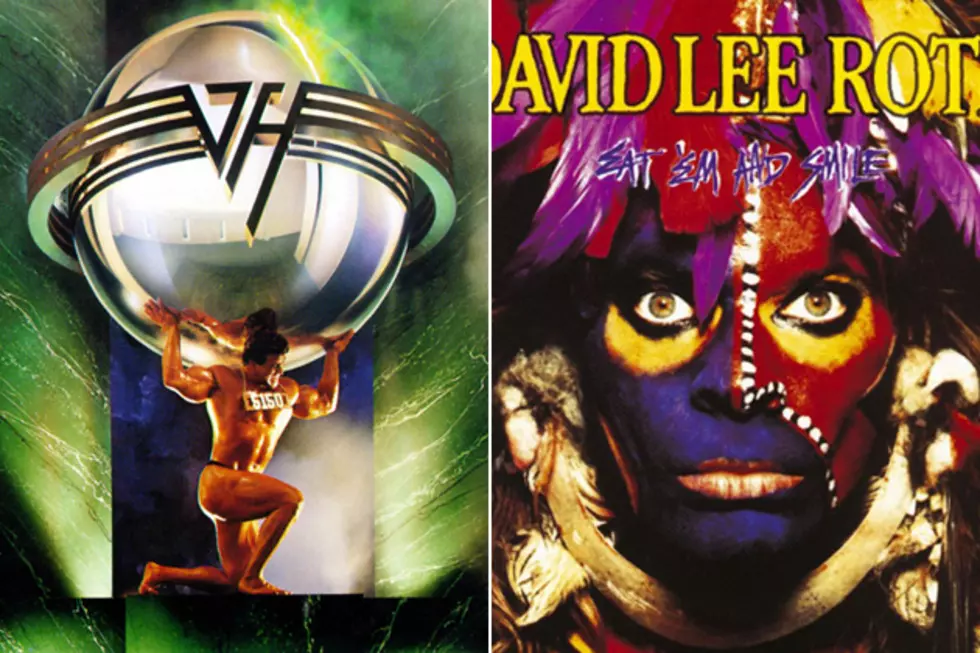 Van Halen's '5150' Vs. David Lee Roth's 'Eat 'Em and Smile': Great Rock Debates
Warner Bros.
Rock 'n' roll history is rife with band family feuds, but perhaps none received quite as much publicity or caused a bigger fan base rift than Van Halen's ugly 1985 divorce from singer David Lee Roth. This was the battle royale of '80s hard rock. After all, no other American band did quite as much as the Roth-fronted Van Halen to set the template later aspired to by future generations of bands. So it stands to reason that the debate over which of the first albums released by these warring factions – the Sammy Hagar-fronted Van Halen and the hastily assembled David Lee Roth band – is better continues to polarize hard rock fans to this day. We asked two writers to each argue one side of this debate, and here's what they had to say.
'Eat 'Em and Smile' is Better Than '5150'
by Eduardo Rivadavia

Here's the thing you have to understand about this argument: no one – or at least no one who actually cared about Van Halen prior to "Jump"'s unprecedented crossover into the pop charts – sided with Roth when his departure from the band became official that summer. Between the undoubtedly amusing but unnervingly kitsch cover tunes heard on Roth's 1985 solo EP, Crazy From the Heat, and the singer's sheer egotistical overexposure, most Van Halen fans were nearly as fed up with Diamond Dave's antics as Eddie, Alex and Michael. "Good riddance!" we said.
But when the newly minted "Van Hagar" unveiled their first collaboration, 5150, in March 1986, its synthesizer-drenched, thoroughly modern contents veered so radically from Van Halen's beloved old blueprint that old-school fans couldn't help but question their loyalty. And when the surprisingly formidable David Lee Roth band (complete with a guitar hero of its own in the inimitable Steve Vai), surprised most everyone that July by appealing to that nostalgic VH aesthetic with Eat 'Em and Smile, the battle lines were formally drawn.
Eat 'Em and Smile also boasted a sugary sweet single in "Goin' Crazy!" (better than "Dreams") and another pair of insufferable classic pop covers ("I'm Easy," "That's Life"), but it also packed a wealth of electrifying, athletic rockers in "Yankee Rose," "Shyboy" and "Elephant Gun" – all of them bursting with the sort of fleet-fingered guitar showboating and larger-than-life personalities Van Halen fans were hungering for. Even the Roth band's rare true experiments – namely the sultry cult favorite "Ladies' Nite in Buffalo?" – fared better than Van Hagar's wholesale departure into synth-rock (not to mention the pointless avant-garde filler "Inside").
So while Eat 'Em and Smile isn't perfect, you have to admit, wherever you stand on the still far-from-settled Roth vs. Hagar debate, that the red-hot parts of Eat 'Em and Smile share a lot more in common with "Unchained" than anything found on the calculated, cold and clinical 5150.
'5150' is Better Than 'Eat 'Em and Smile'
by Matt Wardlaw

David Lee Roth is never at a loss for words – and he chose them well when taking stock of his vocal arch-nemesis Sammy Hagar's work in comparison to his own. As the pair were preparing to launch an unlikely co-headlining tour in 2002, Roth quipped, "Sam throws a party. I am the party."
But which party was better? In 1986, both Van Halen and Roth were at a crucial crossroads as they prepared their first post-breakup releases. Roth appeared to have one clear advantage: He was moving forward with the recognizable multi-platinum voice, which can be a big hole for a band to fill.
But most bands don't have the luxury of having Eddie Van Halen in their arsenal. Since he was clearly established as one of the genre's most important guitar players, there was little doubt that there would be interested eyes and ears waiting to hear what he and his bandmates would do next in the recording studio.
No question, the choice of Hagar as Van Halen's new singer caused more than a few fans to scratch their heads. Remember, this was an era where vocalist swaps weren't quite as common as today's practice of finding a clone of your current singer on YouTube. But as Hagar – who had built a formidable resume of work both solo and with Montrose – would prove with his debut on 5150, his presence gave Van Halen the necessary tools to satisfy in a whole new way.
Of course, Van Halen had begun to explore more melodic pastures with the 1984 album, bringing keyboards prominently into the mix on songs like "I'll Wait" and "Jump." But they were now able to take those ideas even further on 5150 with songs like "Why Can't This Be Love" and "Dreams." There was even – yikes! – a power balled, "Love Walks In."
Hagar also helped the band to score its first No. 1 (the first of several) with 5150. Many can lament that Van Halen with Roth was more of a "party" band, but future tequila billionaire Hagar certainly brought his own good times into the mix. Van Hagar concerts often felt like close and personal – okay, maybe drunken – family reunions.
David Lee Roth is the party? Fair enough – but Hagar brought songwriting consistency and more importantly expanded range to Van Halen. Most of Eat 'Em and Smile depended on old tricks to succeed, and sometimes relied too heavily on flash and Roth's personality instead of substance. As his 1988 follow-up Skyscraper proved even more clearly, even if you assemble the absolute best army of players – and Gregg Bissonette, Billy Sheehan and Steve Vai certainly fit that description – a strong songwriting chemistry needs to be in place in order to achieve career longevity.
But there's no need to look ahead. Song for song, 5150 is ultimately a better album than Eat 'Em and Smile. Against all odds, lightning struck twice for Van Halen as the combination of Hagar, Eddie and Alex Van Halen and Michael Anthony built a collaborative brotherhood that in 1986 felt pretty special. Today, even though that partnership is regrettably long fractured, 5150 still holds up.
 
 
Van Halen Released One of Rock's Most Hated Records
Think You Know Van Halen?
More From KLUB Tejano 106.9