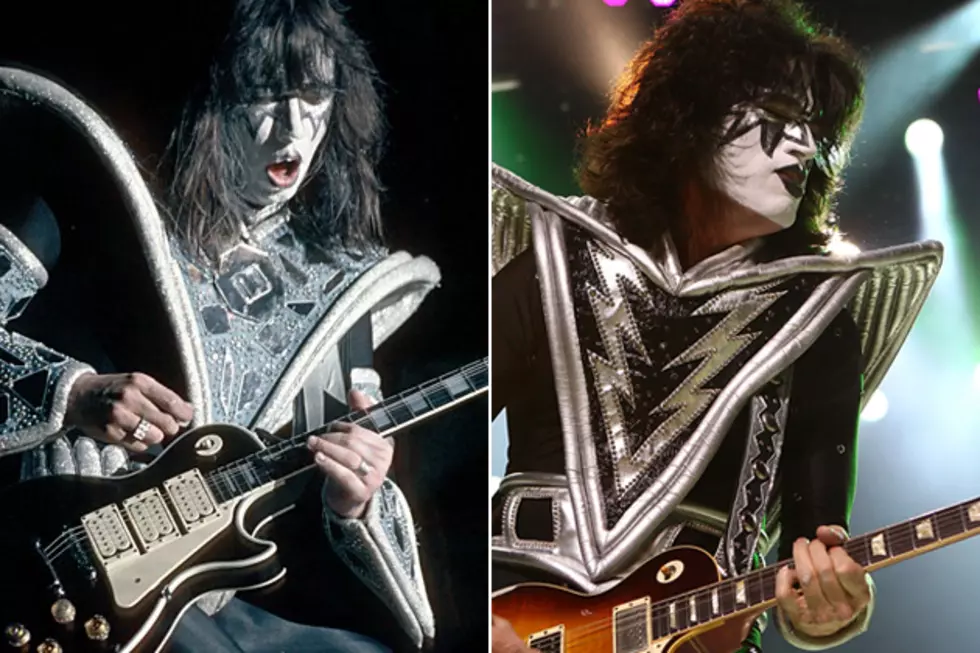 Ace Frehley: 'I Definitely Blow Tommy Thayer Off the Stage'
Michael Ochs Archive / Paul Kane, Getty Images
Ace Frehley has never been particularly shy about voicing his opinions on matters concerning his former band, Kiss. Now, he's offered his thoughts on why Kiss chose not to perform at the Rock and Roll Hall of Fame induction ceremony while also setting his sights on current Kiss guitarist Tommy Thayer.
"I think the reason they didn't want to get together with the original members was because they're afraid of history repeating itself," Frehley says in the July 2014 issue of Guitar World. "When we did 'Unplugged' in 1995, you saw what happened: because the fans were so excited about me and Peter playing with those guys, they had to scrap their last record [with then-current members Bruce Kulick and Eric Singer] and do a reunion tour. Although at this point I don't think Peter could do a two-hour show and a full tour. But I still got the chops. I definitely blow [current Kiss guitarist] Tommy Thayer off the stage."
This isn't the first time that the guitarist has criticized his former band but with the Hall of Fame fiasco behind him, Frehley is looking towards the future. The 63 year-old guitarist is engaged to be married and regularly works with Gibson guitars on a myriad of signature instruments. But perhaps most significantly, Frehley is now seven-and-a-half years sober, a monumental achievement for the once hard-living guitarist.
"I haven't had the urge to drink in a long time," he acknowledges. "And I don't miss the hangovers, I don't miss the smells, the late nights at the bars, or the people. I was hanging out with some pretty shady people in my heavy-drinking-and-coke years. I was in some situations that really could have gone sideways. I was just lucky,"
Frehley shares that his sobriety has played an immense role in helping him realize his full potential once again and he couldn't be happier.
"I'm writing great songs and I'm singing great, and I'm super excited about this new album. It's gonna be even better than 'Anomaly'. I played some tracks for a couple of guys I was considering using for mixing, and the first thing out of their mouths was, 'God, your voice sounds like it did on your 1978 solo record.'
Ace Frehley's new solo record, 'Space Invader' is due for release on July 8.
Watch Ace Frehley's Real Life 'Spinal Tap' Story
More From KLUB Tejano 106.9