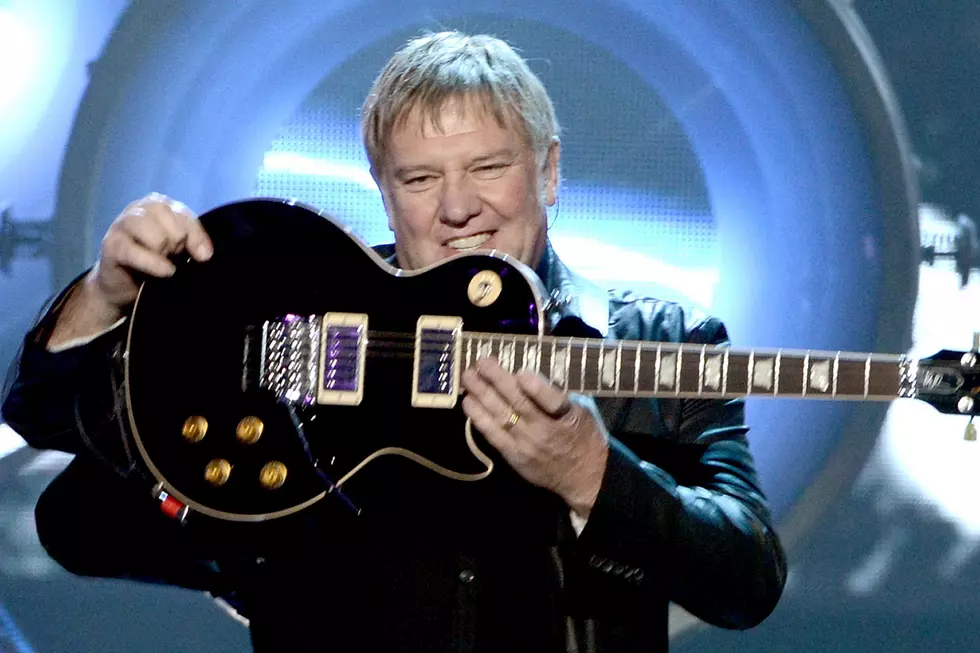 Why Alex Lifeson Got Kicked Out of a Music Store Every Week
Kevin Winter, Getty Images
Alex Lifeson used to haunt his local music store, coveting a Gibson guitar that he couldn't afford.
Long before he found fame with Rush, he dreamed of owning an instrument built by the renowned manufacturer – and since finally getting one, Lifeson has remained loyal to the brand.
"The first guitar I got was an acoustic guitar," Lifeson said in a video announcing his new signature Epiphone Les Paul. "It was a cheap Japanese guitar; it was $10 and I got it for Christmas in 1966. I played that guitar that whole year, as painful as it was – the action on it was terrible.
"I begged for another guitar and I got an electric the following Christmas, and it was also a Japanese guitar… that I think cost my parents $59," he added. "I played it as much as I could but I always dreamt about having a Gibson. They just seemed so beautiful and so out of reach."
So, he'd head to Long & McQuade's, a music store in Toronto, every weekend.
"I'd spend a Saturday sitting on an amp and pulling down a 335, or maybe a Les Paul, or an SG," Lifeson remembered. "I would play for about an hour until the salesman came by and said, 'Okay, get lost, kid.' And I would come back the next weekend, and then the next weekend, and then the next weekend, and he let me play for an hour and then he kicked me out. But that's the dream that we all have, right? Always a Gibson."
Lifeson made his first pilgrimage to the Gibson factory in 1976, taking the opportunity to order three guitars. He's most often seen playing a white 355 from that trip.
"As the years rolled by and we continued touring at a crazy pace, my collection of Gibsons grew more and more," Lifeson said. "I developed a very close relationship with people at Gibson and they asked me to be involved in a model of a guitar that really suited my purposes."
Watch 'Alex Lifeson and Gibson - A 50 Year Ride'
Rush Albums Ranked
The Rush / Metallica Team-Up That Slipped Away
LOOK: Here is the richest town in each state
Just saying the names of these towns immediately conjures up images of grand mansions, luxury cars, and ritzy restaurants. Read on to see which town in your home state took the title of the richest location and which place had the highest median income in the country. Who knows—your hometown might even be on this list.
LOOK: Route 66's quirkiest and most wonderful attractions state by state
Stacker
compiled a list of 50 attractions--state by state--to see along the drive, drawing on information from historic sites, news stories,
Roadside America
, and the National Park Service. Keep reading to discover where travelers can get their kicks on Route 66.
More From KLUB Tejano 106.9