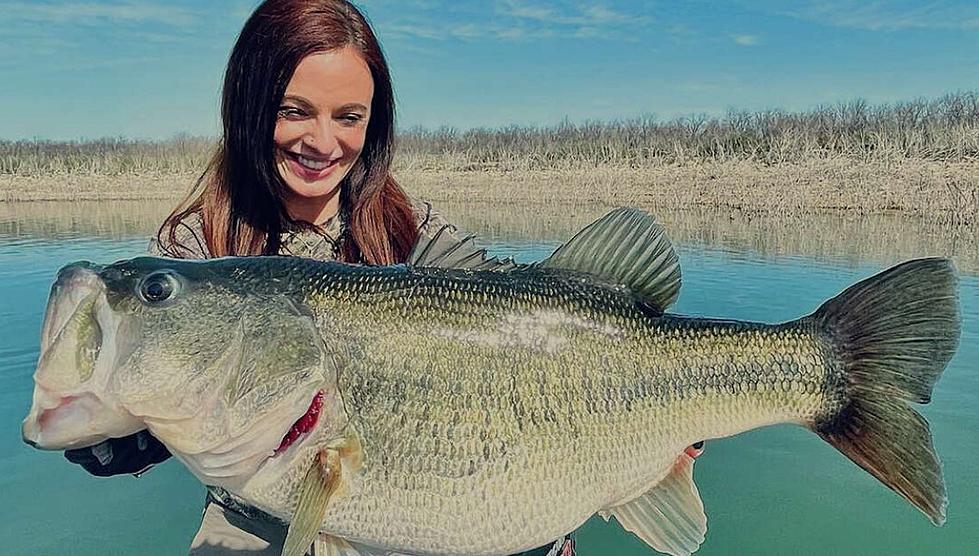 Did A Female Angler In TX Just Out Fish Every Man on the Planet?
Lea Anne Powell of Lake Jackson displays the 12- pound, 3-ounce bass she caught in February at Lake O.H. Ivie. Courtesy photo, Dalton Smith
Well well well Texas...it looks like there's a new game in town.
With an absolute beast of a bass in her hands Lea Anne Powell smiles for the camera wondering if she just landed the WORLD RECORD for a largemouth bass in Powell's line class. 
World Record Largemouth Bass In the Hands of A Texas Female Angler
This fish story is one for the record books! Lea Anne says when she got to  O.H. Ivie  she met with her friend and fishing guide, Dalton Smith, who had a day off to fish.
Being married to a fly fishing guide and captain, I can attest there are very few days when a true angler doesn't want to be on the water, even on their days off.
In fact, my husband has offered before that "A bad day on the water is still better than a great day at the office." 
When Lea Anne and Dalton hit the water, Lea Anne offered in an article from Everything Lubbock that she beat her personal record by catching a 10.58 pound bass on the first day of fishing.
The next day on the water though was epic.
Lea Anne explains, "Once I set the hook, Dalton was like, 'Oh my God, you caught a giant'. But what was crazy is we were both freaking out because it was hooked 45 feet from the boat and 15 feet down on 10-pound line with a spinning rod."
The fishing community understands this scenario best... this means Lea Anne was about to be in the battle of a lifetime.
Lea Ann Powell had landed a 12 pound 3 ounce female largemouth bass.
The world record is pending, but the excitement was SOLID.
According to female anglers like Elizabetha Cochran in her article, 'The Three Benefits of Fishing: A Woman's Perspective', there are incredible benefits, mentally and physically for women on the water. "Just looking at the water, hearing the flow of the river or the birds chirping can change your mood. Fishing increases time outside and repetitive actions like casting can be therapeutic."
With personal and world records under their belts, female anglers like Lea and Elizabetha continue to inspire all of us...and that includes the men, even when we out fish them.
KEEP READING: Here are the best places to retire in America
More From KLUB Tejano 106.9