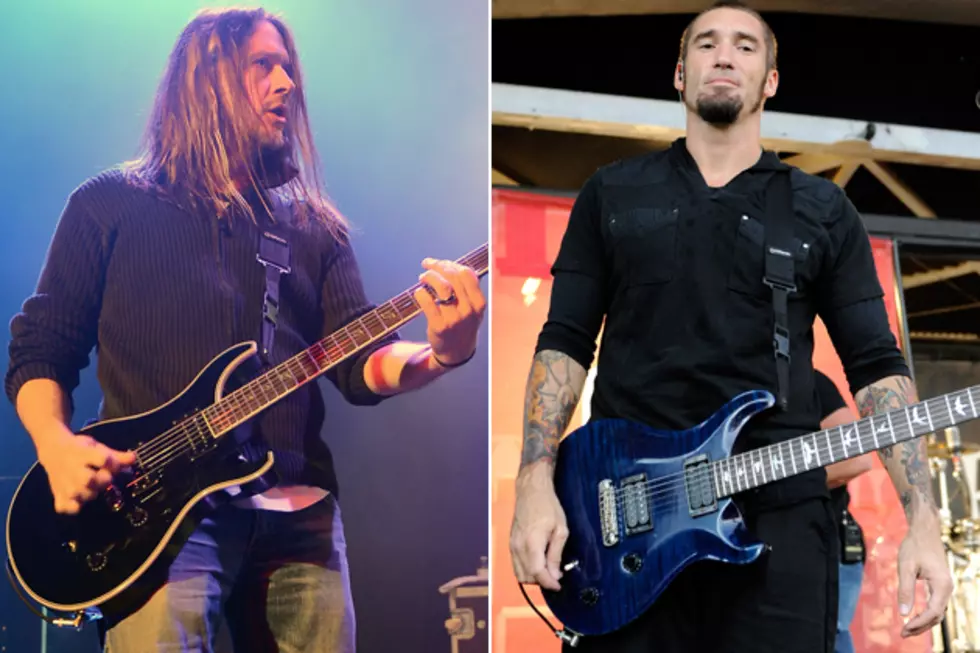 Evanescence's Troy McLawhorn Filling in for Sevendust Guitarist Clint Lowery on Tour
Ethan Miller, Getty Images (2)
Sevendust guitarist Clint Lowery is taking a step back from the road temporarily, but the band has moved quickly to fill the void, selecting Evanescence's Troy McLawhorn to sit in on guitar during Lowery's absence. The Sevendust rocker is taking the time away to be at home with his lovely wife Tara as they await the birth of their daughter. This will be the couple's second child. They wed in 2010 and already have a son, born the same year.
McLawhorn has a history with Sevendust, first appearing as an additional guitarist on their 1999 album, 'Home.' In addition to Evanescence, he's played guitar for DoubleDrive, Seether and Dark New Day. While in Dark New Day, he played guitar opposite Lowery, so that bond no doubt helped him land the gig.
With Evanescence currently on a break, McLawhorn was free to step up and play with the band. He recently joined the group on the road for their tour with Coal Chamber and Lacuna Coil and will continue on guitar until Lowery is able to return.
Sevendust just released their 'Black Out the Sun' album this week. Our review can be seen here. The disc features the lead single 'Decay,' and the video for the song just surfaced as well.
Clint Lowery and His Expectant Wife Tara With Their Son:
More From KLUB Tejano 106.9