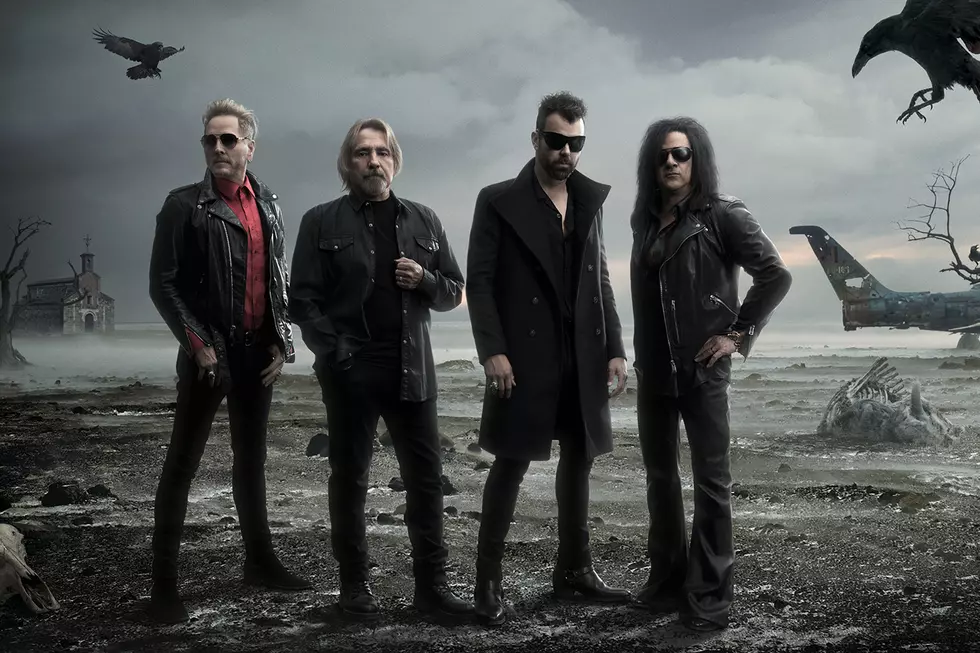 Geezer Butler, Matt Sorum, Steve Stevens and Franky Perez Premiere Deadland Ritual's 'Down in Flames' Video
Jonas Akerlund
The band was the brainchild of Sorum, who came up with the name "Deadland Ritual" to reflect the idea of a "ritualistic dead space," which felt appropriate for the music he wanted to make. "Steve and Franky were the first guys I called," he said. "We knew we wanted to create a heavier rock sound, but when I contacted Geezer and he agreed to play, I knew this could be a great band."
Butler says he was working on a new solo album when Deadland Ritual started to coalesce. "It was appealing for me to work in a band environment because that's what I'm used to," he said, "so it feels really natural. I'm really looking forward to playing shows with these guys."
Stevens described his first studio session with Butler as a revelation. "There's a lot of times in the studio as a guitar player, you get a guitar sound and you're trying to make it work, tweaking it," he said. "There was none of that bullshit. It just fit against his bass sound and it was really exciting to me. I get to hear my guitar against a bass guitarist that I've idolized forever."
You can watch the "Down in Flames" video below:
"Down in Flames" was released via Sonik Riot Records / AWAL powered by Kobalt, who noted in a statement that Deadland Ritual aimed to focus on quality versus quantity. "With festival appearances booked and headline dates in the works, they'll use the time leading up to that trek to continue writing and recording, releasing singles along the way and perhaps, a LP," they added. "[T]he live shows will be something special, mixing the original material with deeper cuts from their collective past."
Deadland Ritual's first two confirmed dates are both at summer festivals – Download in the U.K on June 14 and Hellfest in France on June 22. Further details will be announced via their website.
Black Sabbath Albums Ranked 
You Think You Know Black Sabbath?
More From KLUB Tejano 106.9