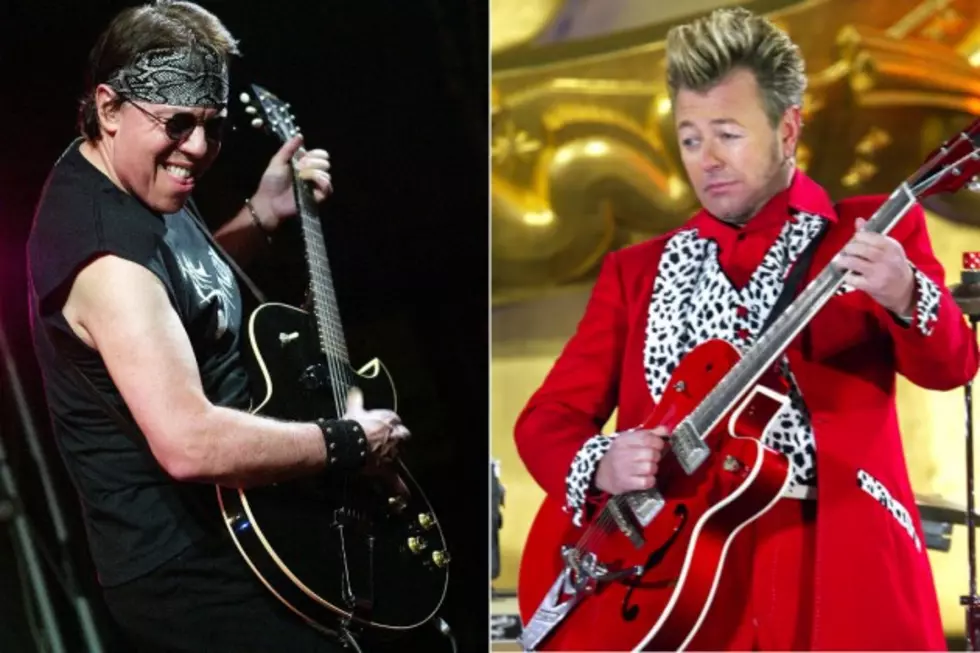 George Thorogood Announces Co-Headlining Tour With Brian Setzer
Paul Kane / Scott Gries, Getty Images
George Thorogood may drink alone, but this summer he's touring with Brian Setzer.
The veteran guitar slingers will join up for a co-headlining package tour beginning in late May and running through late June. The summer dates, called George Thorogood and the Destroyers / Brian Setzer's Rockabilly Riot Tour 2015, mark Thorogood and Setzer's first time touring together in more than 20 years and, you just may want to plan a little road trip, because there aren't any Texas dates on the schedule. Maybe we'll get lucky and add a few. If now, who wants to take a little road trip with me?
"Blues and Billy with a kick! Where else you gonna see this?" asked Setzer, who's touring behind his latest release, 'Rockabilly Riot!: All Original.' Released last summer, the former Stray Cats leader's ninth studio set features a dozen new songs.
"I am looking forward to working with Brian again," added Thorogood, whose most recent album, '2120 South Michigan Ave.,' collected covers of songs previously recorded by Chess Records artists. "He is a great American artist and a true rock and roller in the classic rockabilly fashion!"
Prior to starting the Rockabilly Riot dates, Thorogood and the Destroyers will embark on their own tour, George Thorogood and the Destoyers: Badder Than Ever, starting in late February. Check out the complete list of co-headlining shows below.
George Thorogood / Brian Setzer 2015 Tour Dates
5/27 - Red Bank, NJ
5/29 - New York, NY
5/30 - Canandaigua, NY
5/31 - Baltimore, MD
6/5 - Detroit, MI
6/6 - Elgin, IL
6/8 - Milwaukee, WI
6/9 - Clear Lake, IA
6/10 - Cedar Rapids, IA
6/12 - Morton, MN
6/16 - Albuquerque, NM
6/19 - Lincoln, CA
6/20 - Saratoga, CA
More From KLUB Tejano 106.9