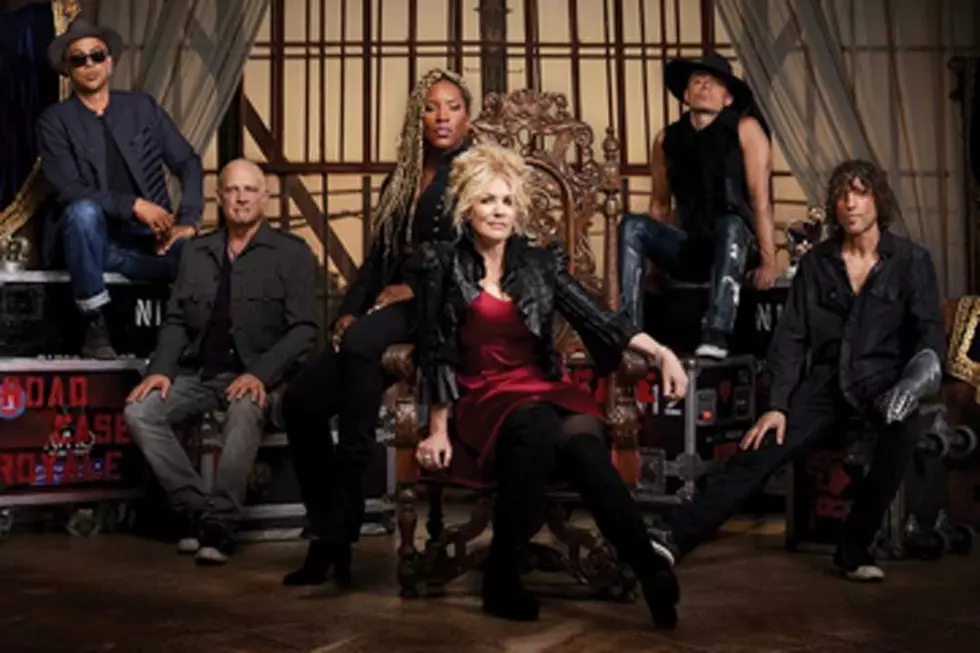 Heart Offshoot Roadcase Royale Announce Debut Album
Jeremy Danger
Roadcase Royale, the band formed by Heart guitarist Nancy Wilson and Liv Warfield, a singer with Prince's New Power Generation, have signed to Loud & Proud Records for the release of their debut album, First Things First, which will arrive on Sept. 22.
The lineup also features Heart members Chris Joyner, Dan Rothchild and Ben Smith, along with a Warfield collaborator, guitarist Ryan Waters. The band released a pair of songs, "Get Loud" and "Not Giving Up," earlier this year.
The idea of joining forces came about after Heart invited Warfield and Waters to open for them in 2015. "[Warfield] and I were like, 'We should try to do something together,' because we're both just excited about music," Wilson recently told Ultimate Classic Rock. "We said, 'Let's be the people that actually do something that they want to do, instead of just say that they're gonna do it, and never do it.' Because Ann had been out doing her own Ann Wilson thing, I figured [I could] do something musical and fun and interesting and inspiring and exciting."
With Heart currently on hiatus for personal and creative reasons, guitarist Wilson noted in a press release that "Roadcase Royale is a band I've always wanted to be in. We all write and create songs as a unit. It's an inspired democracy. Liv and Ryan bring a whole new level of magic to our new sound. I'm amazed, after devoting my life to rock music, how it now feels so brand new. That's why our first album is called First Things First."
"Nancy and Liv are magic together, and the musicianship is outstanding," Loud & Proud boss Tom Lipsky added. "There is a fire within this group to do something original – to feed off each other and explore new creative directions. It's exciting to see that kind of passion and drive in artists that have already accomplished so much."
Roadcase Royale have also announced an initial run of U.S. tour dates beginning in New York on Sept. 10 and ending in Oklahoma City on Oct. 15. You can see the dates below. More dates will be scheduled later.
Roadcase Royal Tour Dates 2017
Sept. 10 – The Gramercy Theatre – New York, NY
Sept. 24 – The Pabst Theater – Milwaukee, WI
Oct. 1 – Neighborhood Theatre – Charlotte, NC
Oct. 4 – Bijou Theatre – Knoxville, TN
Oct. 8 – City Winery – Nashville, TN
Oct. 15 – Tower Theatre – Oklahoma City, OK
Heart Albums Ranked Worst to Best
More From KLUB Tejano 106.9