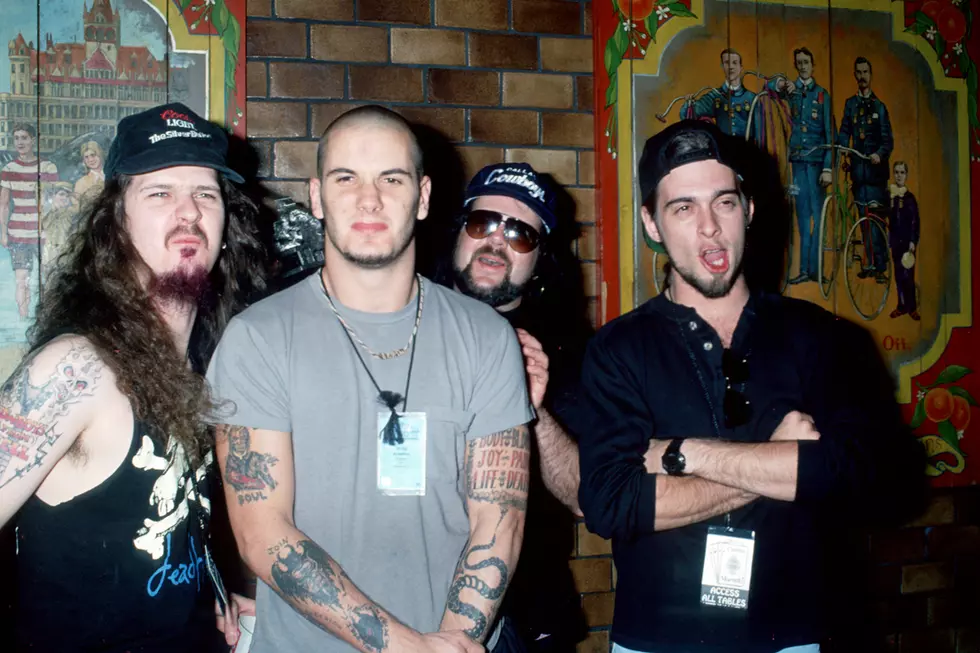 Pantera Tease Clip of 'Home Video 4'
Ron Galella, Getty Images
Pantera released a short clip of their fourth home-video release, though no arrival date was given.
The minute-long taster was shared in a tweet that read, "Bonus 420! Preview clip of Pantera Home Video 4. Not sure when it will be released but definitely at some point in the future."
It shows frontman Phil Anselmo and guitarist "Dimebag" Darrell Abbott play-fighting and Dimebag being driven in a golf cart by bassist Rex Brown. One fan is asked by drummer Vinnie Paul to issue a welcome to the fourth home video into the camera, suggesting that the release had been planned long ago.
You can watch the video below.
The first three home videos arrived in the '90s. Cowboys From Hell: The Videos was followed by Vulgar Video then 3: Watch It Go. They were bundled together in the 3 Vulgar Videos From Hell DVD set in 1999, which ran 245 minutes.
The death of Paul last year seemed to end speculation about a Pantera reunion, with Zakk Wylde often suggested as a replacement for Dimebag – Paul's brother – who was shot dead onstage in 2004.
Anselmo recently explained that things had changed for his current band, the Illegals, after they added Pantera tracks to their live set as a tribute to Paul.
"The Illegals, I guess, a few years back, we did a couple just messing around really," he told The Rock Pit. "But I gotta give big props to my guys, a bunch of extreme metal players, for really sitting down and learning the Pantera songs as well as they do know them. … The energy in the room when those songs are cranking is undeniable."
He added that "when we start the set and we play the Illegals songs, they are super-fast and really just an all true form … and then when we drop into the Pantera songs, I think it's the groove of those songs that really yanks people out of the chairs."
Top 50 Metal Albums
More From KLUB Tejano 106.9