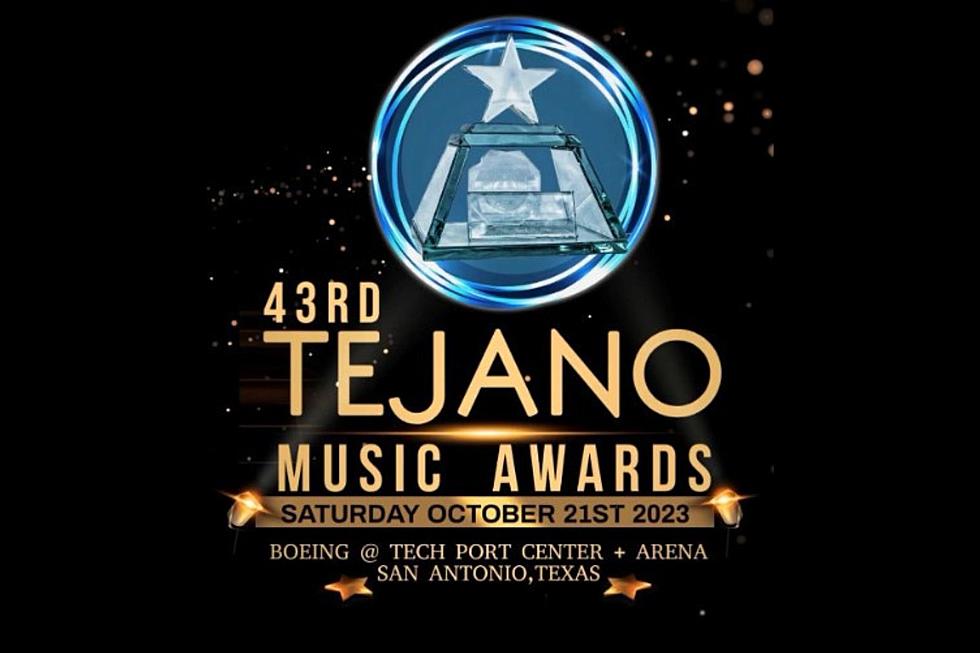 The 43rd Tejano Music Award Nominees Announced
Tejano Music Awards
Don't forget to catch your Tejano Nation updates with Romeo every weekday morning at 7:10, 8:10, and 9:10 on KLUB Tejano 106.9!
The nominees for the coveted awards were announced today, and the competition is fierce. Here are the top five contenders in each of the categories:
SONG OF THE YEAR
"Ahora Que Ya Eres Feliz" — Isabel Marie Sanchez
"Infraganti" — Monica Saldivar
"Mi Guerita" — Lucky Joe
"Necesito Odiarte" — Jay Perez
"Quedate Con El" — Stefani Montiel
MALE VOCALIST OF THE YEAR
Elias Arredondo (The Homeboyz)
Emanuel J
Jesse Turner (Siggno)
Joe Lopez
Ricardo Castillon
FEMALE VOCALIST OF THE YEAR
Destiny Navaira
Isabel Marie Sanchez
Monica Saldivar
TEJANO ALBUM OF THE YEAR
Dime Como Se Siente — Destiny Navaira
Love From The Heart — Joe Lopez
Sin Fin — Gary Hobbs
Sobrevivir — Siggno
Soy Mas Fuerte (Deluxe) — Monica Saldivar
CONJUNTO ALBUM OF THE YEAR
Alza Los Ojos — Los Hermanos Sanchez
Oddz — The Homeboyz
Una Promesa — South TX Homies
COLLABORATION OF THE YEAR
A Mi Lado — Emanuel J & Monica Saldivar
Corazon Corazoncito — Tony Barragan & Ruben Ramos
Llorar Quedito — Ismael Gutierrerz & Luis Adrian Gutierrez
No Me Olvides — Monica Saldivar & Shelly Lares
Yo Te Daba Todo — Destiny Navaira & Jose Adan Esparza
BEST NEW MALE ARTIST
Hernan Hernandez, Jr (Suenatron)
Javier Soliz
Joe Lara
Leeroy Camarillo (Magnifico 7)
Rocky Beltran (Mike Gonzalez & The Iconiczz)
BEST NEW FEMALE ARTIST
Di Marie (Mike Gonzalez & The Iconiczz)
Hilda Lamas
Laura Denisse
Madison Pulido
BEST NEW GROUP
Joe Lara Y Grupo Xprezzion
Jr Reyna Y Elegido
Laura Denisse Y Los Brillantes
Mike Gonzalez & The Iconiczz
The nominees were determined by online voting from fans and industry professionals.
The awards show will also feature a star-studded lineup of performers, who will entertain the audience with their hits and collaborations. The confirmed performers are Siggno, Joe Lopez, Ricardo Castillon Y La Diferenzia, Isabel Marie Sanchez, Angelica Y Moneda, Grupo Asalto, Suenatron, and Paula Deanda.
The Tejano Music Awards is a celebration of the rich and diverse culture of Tejano music, which has been a part of Texas history for over a century. The event aims to recognize the achievements and contributions of Tejano artists and promote their music to a wider audience. The event is organized by the Texas Talent Musicians Association (TTMA), a nonprofit organization dedicated to supporting and developing Tejano music.
Tickets for the 43rd annual Tejano Music Awards are on sale now here. For the latest information on the event, visit www.tejanomusicawards.com.
LESSER KNOWN TEXAS TRAFFIC LAWS
More From KLUB Tejano 106.9