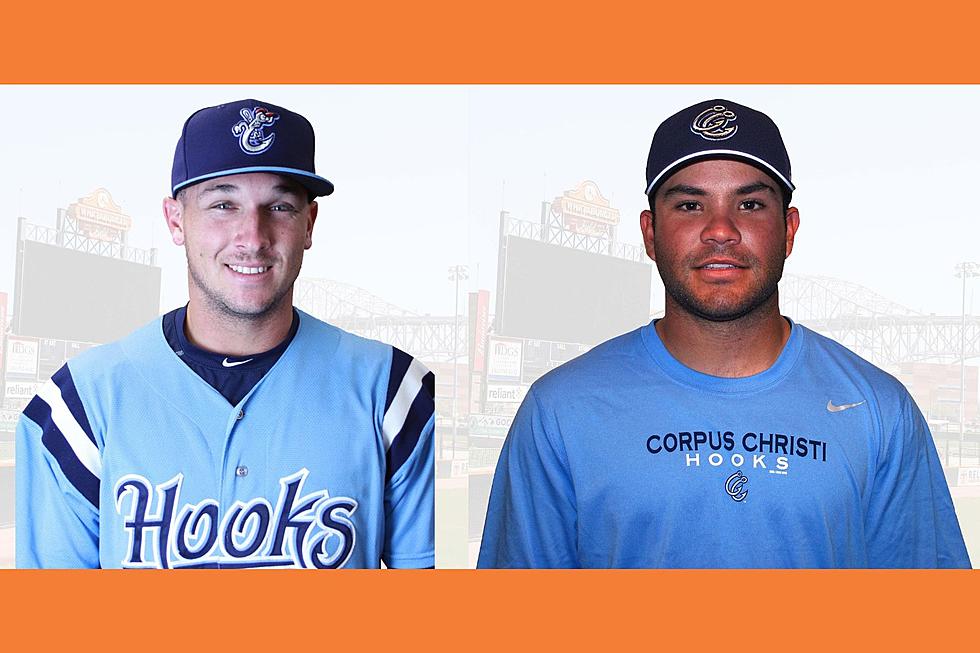 The Houston Astros Before They Were Houston Astros
CC Hooks Facebook/Canva
The Houston Astros are getting things together at just the right time! The Houston Astros have sole possession of first place in the AL West! This comes after the Houston Astros completely dismantling and sweeping the Texas Rangers.  The 'Stros scored 39 runs in the three-game series which turned into a home run derby. Most notably, Jose Altuve hit 5 home runs in the first two games of the series, Yordan Alvarez, Dubon, Maldonadndo, and Abreu all hit 2 home runs during the series as well. Let's keep this momentum going. Let's go Astros!
What a great time to look at some of your favorite Astros Baseball Players before they were superstars with their time with the Astros double-A affiliate Corpus Christi Hooks. I have also included one of Justin Verlander's from his days with the Detroit Tigers double-A affiliate, Erie Seawolves! Have you ever been to Whataburger Field in Corpus Christi? This is why I go to minor-league baseball games. You never know what future superstars are taking the field. Thanks to the CC Hooks Facebook page for posting these awesome photos! The Astros will take on the Seattle Marines in the American League Divisional Round in the best-of-five series. Take a look at the schedule below.
Check out the babyfaces of Altuve, Bregman, Valdez, Tucker, McCuller's Jr., and also a baby-face Justin Verlander. 
Here is one of Justin Verlander from the Detroit Double-A Affiliate, Erie Seawolves
YORDAN ALVAREZ
A YOUNG JOSE ALTUVE:
ALEX BREGMAN

FRAMBER VALDEZ 
KYLE TUCKER
LANCE MCCULLERS JR
MATTRESS MACK IS HOUSTON:
Mack's status has recently elevated after a Philadelphia Phillies fan started talking trash about the Houston Astros! Mack did not back down, he had his Houston Astros back. The way he handled that situation has given him an iconic status in H-Town and has also brought us some epic memes as well. It's only fitting that he throws out the first pitch of game 6 of the World Series. If you haven't seen the viral video of Mack, click here. You will hear some strong language. Mack will throw out the first pitch at game 6. George Strait will call 'play ball.' THIS IS TEXAS!
MORE: See 30 toys that every '90s kid wanted
More From KLUB Tejano 106.9