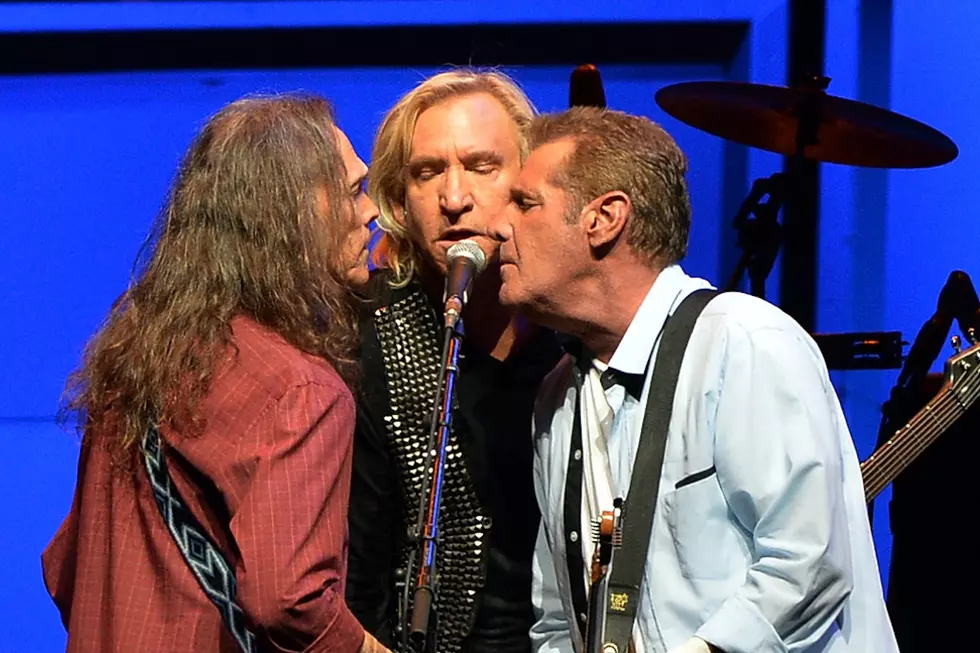 Top 10 Underrated Eagles Songs
Rick Diamond, Getty Images
The Eagles were an extremely diverse group of musicians during the '70s, essaying tracks ranging from country rock to hard rock, pop, ballads and even disco. The group's earliest work tended to focus on country production elements, while later albums included far more rock-oriented guitar work and a growing musical restlessness, as evidenced by the wide variety of songs in our Top 10 Eagles Songs list. But as diverse as those songs are, they don't even begin to scratch the surface of the band's true artistry – as you'll see in our list of the Top 10 Most Underrated Eagles Songs.
10

'Most of Us Are Sad'

From: 'Eagles' (1972)

At their core, the Eagles were undeniably a country rock band early on, and "Most of Us Are Sad" is a lost classic that brought together all of the elements that made that period special. Written by Glenn Frey and sung by bassist Randy Meisner, the song is a hardcore country lament, but produced in the trademark Eagles style featuring crystalline vocal harmonies and clean instrumentation. The lyric reads like prose poetry: Most of us are sad / No one lets it show / I've been shadows of myself / How was I to know?"

9

'Wasted Time'

From: 'Hotel California' (1976)

Written by the dominant songwriting duo of Frey and Don Henley, "Wasted Time" is a superb showcase for the grittier, soulful side of Henley's voice. Constructed with simple, intersecting piano chords, string lines and a trademark clean, straightforward melody, the track demonstrates that sometimes the magic of the Eagles wasn't in what they played; it was in the taste and restraint they showed in not overplaying, letting the chords, melody and vocal deliver the true intent of a song.

8

'James Dean'

From: 'On the Border' (1974)

This energetic, guitar-driven rock track follows along the same lines as more prominent hits like "Already Gone," with its shuffle pattern rhythms and tradeoff lead guitars. Written by Frey, Henley, Jackson Browne and J.D. Souther – whose contributions to the Eagles were so wide spread that he should be credited as an additional member – the song pays tribute to the movie icon, describing him as "Too fast to live, too young to die."

7

'Tequila Sunrise'

From: 'Desperado' (1973)

Another early country hit from the pens of Frey and Henley, "Tequila Sunrise" started because of the drink that was popular at the time. Glenn Frey was hesitant about the song, feeling that reference might limit it to a specific time and place, until Henley argued that the lyric was really about waking up the morning after drinking tequila all night. Bernie Leadon's guitar work and mandolin contributions to the track provide a perfect bed for Frey's deceptively easy vocal delivery.

6

'One of These Nights'

From: 'One of These Nights' (1975)

The Eagles took a turn in a different direction with "One of These Nights," fusing elements of disco and hard rock to create something that had little to do with most of the group's recorded output. The funky track exploited the more soulful side of Don Henley's voice. "It is a breakthrough song," Glenn Frey stated in the liner notes to 'The Very Best of the Eagles.' "It is my favorite Eagles record." Don Felder contributed a blazing electric solo that's a perfect example of his trademark blend of tone, phrasing and melody.

5

'I Can't Tell You Why'

From: 'The Long Run' (1979)

Bassist and singer Timothy B. Schmit didn't hesitate to make his presence known on his very first Eagles album. Replacing Randy Meisner, the musician brought in the lush ballad "I Can't Tell You Why," which he finished with Frey and Henley. Schmit sang the track in a beautiful falsetto that added a new dimension to the group, topped off with a perfectly melodic guitar solo from Glenn Frey. "I Can't Tell You Why" earns its spot on the Top 10 Underrated Eagles Songs list.

4

'After the Thrill Is Gone'

From: 'One of These Nights' (1975)

The Eagles returned to their country rock roots with this plaintive ballad from Frey and Henley, which they not only wrote together, they also alternated lead vocals. The lyric perfectly captures both the fading thrill of the '70s club scene, and the malaise that had begun to creep into the band: "Same dancers in the same old shoes / Some habits that you just can't lose / There's no telling what a man might use / After the thrill is gone." The track also captures some of Henley and Frey's best close harmony singing.

3

'Ol' 55'

From: 'On the Border' (1974)

'Ol' 55' is one dramatic example of the Eagles taking the work of another writer and delivering it in its highest form. Written by Tom Waits, 'Ol' 55' was a fan favorite, but the Eagles' recording surpassed his version vocally and instrumentally, using simple piano chords, pedal steel, alternating Frey and Henley lead vocals, and trademark big harmony stacks that make the song into an instant classic that deserves its place in the Top 10 Most Underrated Eagles Songs.

2

'Doolin-Dalton'

From: 'Desperado'

Written by Frey and Henley, with a little help from their friends –- in this case Jackson Browne and J.D. Souther – "Doolin-Dalton' told the story of outlaw Bill Doolin and the Dalton Gang. It kicked off the cycle of songs that became 'Desperado,' a concept album steeped in Western mythology. The track is typically precise, with an evocative lyric: "Well the towns led across the dusty plains / Like graveyard filled with tombstones waiting for the names ."

1

'The Last Resort'

From: 'Hotel California' (1976)

The Eagles closed out their most classic album with "The Last Resort," an epic track that presented the entire world as a resort being destroyed by the greedy, self-serving and short-sighted machinations of the human race. A classic Henley rant, the song was a true ballad with no chorus, centered around a solo Henley vocal. Any track that manages to combine Henley's extreme misanthropy with such an alluring pop arrangement amply deserves to close out our Top 10 Most Underrated Eagles Songs.
More From KLUB Tejano 106.9