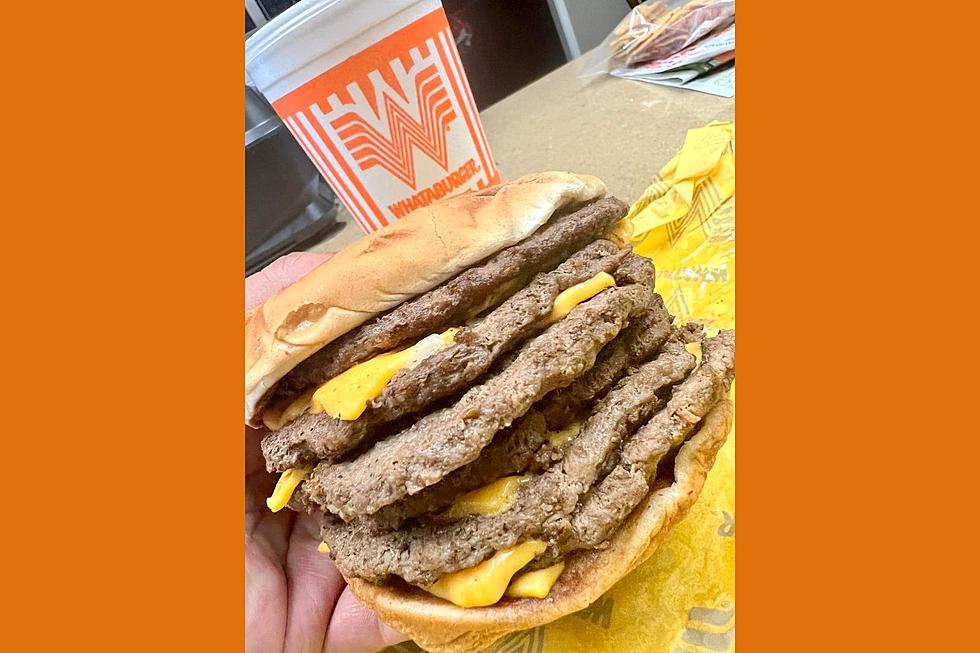 Victorian Man's Whataburger Post Goes Viral on Social Media
Whataburger Fanatics via Gene Poncio
Because I am a foodie, I follow many food-related sites on TikTok, Insta, and Facebook! As I was scrolling through Facebook yesterday, I came across a picture and the name of the person who posted it looked very familiar, so I reached out!  It turns out the now-viral photo was posted by Victoria resident, Gene Poncio! The photo shows a massive Whataburger with six patties and six slices of cheese!  I reached out to get more on the story! It turns out this is a part of his "carnivore meat diet." Gene finished the burger, however, he did not eat the buns nor did he order fries. However, he washed it down with a diet coke! The burger set him back about $15.  Reactions have been mixed on the social site and have brought out more monster burger posts! The post has been shared almost 700 times!
This social post brings back memories of a similar post from 2021
Brandon Cunningham out of San Antonio has been doing very well on his OMAD diet. For those of you that don't know, OMAD is a form of intermittent fasting where you fast for 23 hours and eat for the same 1-hour window each day. OMAD stands for One Meal a Day.  For Brandon, his one meal a day is between 1500-1800 calories. He has been doing the OMAD diet since the beginning of the year and has dropped from 264-205 pounds. As you can see it works. WAY TO GO BRANDON!
A couple of months ago, Brandon was at a place in San Antonio called  Mark's Outing where he saw a 2-pound burger called the I ATE THE 2 POUND BURGER CHALLENGE so he decided to give it a try. He finished it!  You can now see Brandon's picture on the wall at Mark's Outing.  He wanted to amp it up, so on his next Cheat Day, he paid a visit to the Whataburger near the Riverwalk in Downtown San Antonio and ordered the massive beast pictured below!
He ordered the Sweet and Spicy Bacon Burger Meal and added EIGHT MEAT PATTIES, 4 PIECES OF MONTERREY JACK CHEESE, 4 SLICES OF AMERICAN CHEESE, AND 9 PIECES OF BACON! According to the Whataburger APP,  Brandon's burger had a total of 4,450 CALORIES. WHAT-A-BURGER INDEED!  Brandon will continue his OMAD diet and when he drops another 15 pounds, he will challenge himself again.  Oh yeah, see just how much this burger cost! SEE BURGER AND RECEIPT BELOW
COMMONLY MISPRONOUNCED TEXAS TOWNS
More From KLUB Tejano 106.9