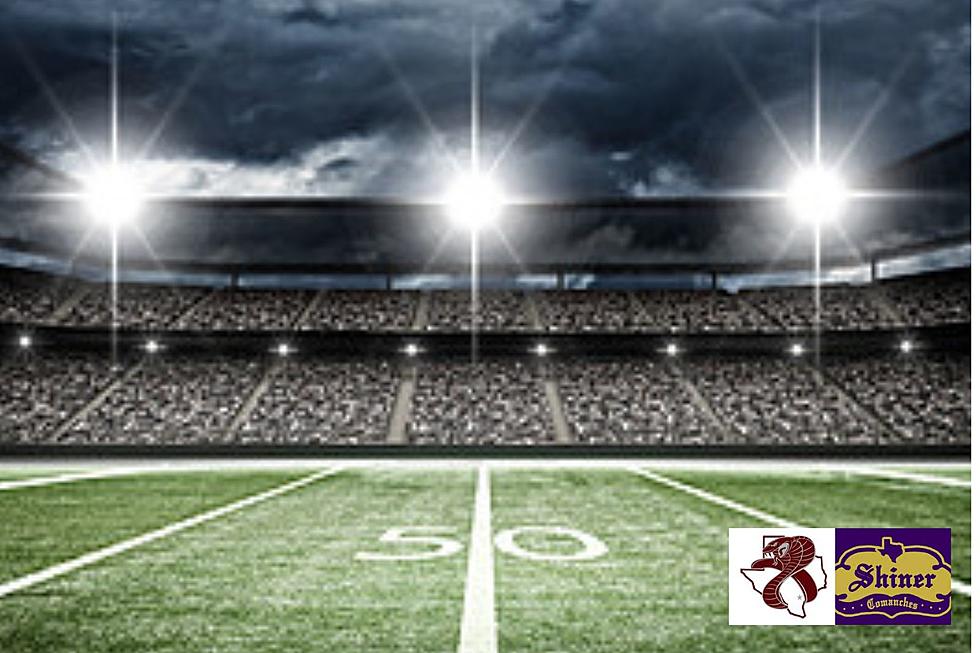 WEEK 2: Crossroads High School Football Schedule
efks/canva
High School football is in full effect with some exciting first-week games. The East Titans opened up with a big-time win at Memorial Stadium. Now the West Warriors will get their turn to open in front of their home crowd this weekend. The STJ Flyers will also have a "home" opener at Gobbler Stadium this Friday night.  This week's Crossroads schedule has a couple of high-profile matchups.
WEEK 2 CROSSROADS HIGH SCHOOL FOOTBALL SCHEDULE:
**All games are on Friday unless noted**
Victoria West Warriors (0-1) versus Glenn(0-1), Memorial Stadium, 7 PM
Victoria East Titans (1-0) at Canyon (0-1), New Braunfels, 7 PM
St. Joseph Flyers (1-0) versus Luling (0-1), Home game in Cuero, 7 PM
Victoria Home School Cobras (1-0)  at Baytown Christian (1-0), Baytown 7 PM
Bloomington Bobcats (1-0) versus Ganado Indians (-1-0), Bobcat Stadium, 730 PM
Industrial Cobras (0-1)  versus Shiner Comanches (0-1), Cobra Stadium 7:30
Cuero Gobblers (1-0) at Navarro (1-0), Friday 7:30
Edna Cowboys (1-0) versus Bay City (1-0), Cowboy Stadium, 7 PM
Refugio Bobcats (0-1) versus London (1-0), Bobcat Stadium, 7:30 PM
Calhoun Sandcrabs (0-1) versus West Oso(1-0) Sandcrab Stadium, 7 PM
Goliad Tigers (0-1) versus Poteet (0-1), Tiger Stadium, 7:30
Yorktown Wildcats (0-1) versus Weimer (1-0), 7 PM
Yoakum Bulldogs (1-0) versus CH Yoe (1-0), Bulldog Stadium, 7 PM
Hallettsville Brahmas (1-0) versus Flantonia (1-0), Hallettsville, 7:30 PM
CHECK OUT THESE HIGH SCHOOL FOOTBALL STADIUMS:
What a great time to take a look at some massive Texas High School Stadiums by capacity and dollar amount.  The first list is the biggest by capacity and below are the two most expensive High School Stadiums in the State of Texas.
THE LARGEST STADIUM BY CAPACITY:
While this one is not a looker, this one has the biggest capacity for a High School Stadium in Texas. Memorial Stadium in Mesquite plays host to five school districts in the Mesquite school district. The estimated capacity:19:400.
SEE PHOTOS: BIGGEST HIGH SCHOOL FOOTBALL SATDIUMS IN TEXAS, BY CAPACITY
THE MOST EXPENSIVE HS SCHOOL STADIUM IN TX IS IN KATY:
The most expensive high school football stadium in Texas can be found right up the road in KATY, Texas.  In 2018, Legacy Stadium opened with a price tag of $72 million dollars.  The capacity is 12,000 and while there are bigger stadiums, capacity-wise, and bigger overall stadiums.  The amenities are what set this stadium apart.
Just check out that press box and VIP area up top. These are most of the schools that utilize this stadium. Cinco Ranch High School, Jordan High School, Katy High School, Mayde Creek High School, Morton Ranch High School, Paetow High School, Seven Lakes High School, and Taylor High School.
ALLEN EAGLE STADIUM:
This $60 million stadium is located in Allen, Texas, is located just north of Dallas, and is not too shabby. The total seating capacity for this stadium is 18,000. The press box is three stories and is over 15,300 square feet.
More From KLUB Tejano 106.9