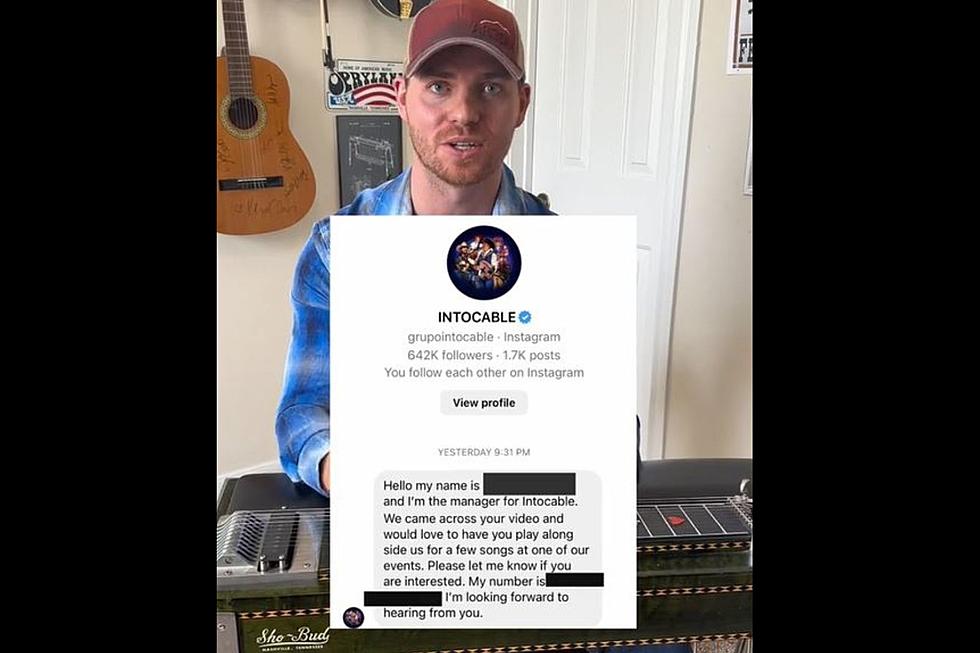 Guy Goes Viral for Adding Steel Guitar to Intocable Music – They Respond!
Freeman Arthur TikTok
Here is another example of what social media can do for you. TikTok user Freeman Arthur posted a video of him adding steel guitar notes to one of Intocable's big hits "Fuerte No Soy" and giving it a Country twang. It sounds awesome! It was so good, that the video went viral to the tune of over 2.1 million views and even gained the attention of Intocable! It was so good that Intocable reached out to this gentleman and asked him to join them on stage. How Awesome!  Check out the video that went viral and the video of his invitation to join the group.
---
---
Here is the video of the actual message of the invite of Intocable followed by a little steel guitar for 'Suena.'
---
---
Intocable is one of the most successful Tejano/Norteno groups around but let us not forget about Humble beginnings. Check out this clipping from an "Intocable de Ricky Munoz" appearance back in 1993 at a place called Roberto's Cocktails in Victoria, Texas. For reference, this place could fit about a 100 people in it.
---
---
Winners From The 43rd Tejano Music Award
Don't forget to catch your daily Tejano Nation Updates with Romeo, on weekday mornings at 7:10, 8:10, and 9:10! Heard exclusively on KLUB Tejano 106.9! Tejano Nation reports The winners of the 43rd annual Tejano Music Awards!
Jessse Turner and Siggno, along with Mike Gonzalez & The Iconiczz were multiple winners at "The Biggest Night for Tejano Music." Turner won Male Vocalist of the Year and Siggno earned Tejano Album of the Year. Mike Gonzalez & The Iconiczz won Best New Group, while the group's vocalist, Di Marie, took home Best New Female Artist.
Destiny Navaira won her second Female Vocalist of the Year honor. Ricardo Castillon Y La Diferenzia was named Entertainer of the Year, while legendary songwriter, singer, and musician Beto Ramon received the Lifetime Achievement Award.
Texas comedian Happy "The Entertainer" hosted the show for the second straight year, which took place at the Boeing Center at Tech Port in San Antonio, Texas, on Saturday night.
43RD TEJANO MUSIC AWARDS WINNERS AND NOMINEES:
ENTERTAINER OF THE YEAR
Ricardo Castillon y La Diferenzia — WINNER!
MALE VOCALIST OF THE YEAR
Elias Arredondo (The Homeboyz)
Emanuel J
Jesse Turner (Siggno) — WINNER!
Joe Lopez
Ricardo Castillon
FEMALE VOCALIST OF THE YEAR
Destiny Navaira — WINNER!
Isabel Marie Sanchez
Monica Saldivar
TEJANO ALBUM OF THE YEAR
Dime Como Se Siente — Destiny Navaira
Love From The Heart — Joe Lopez
Sin Fin — Gary Hobbs
Sobrevivir — Siggno — WINNER!
Soy Mas Fuerte (Deluxe) — Monica Saldivar
CONJUNTO ALBUM OF THE YEAR
Alza Los Ojos — Los Hermanos Sanchez
Oddz — The Homeboyz — WINNER!
Una Promesa — South TX Homies
SONG OF THE YEAR
"Ahora Que Ya Eres Feliz" — Isabel Marie Sanchez
"Infraganti" — Monica Saldivar
"Mi Guerita" — Lucky Joe
"Necesito Odiarte" — Jay Perez — WINNER!
"Quedate Con El" — Stefani Montiel
COLLABORATION OF THE YEAR
A Mi Lado — Emanuel J & Monica Saldivar
Corazon Corazoncito — Tony Barragan & Ruben Ramos
Llorar Quedito — Ismael Gutierrerz & Luis Adrian Gutierrez
No Me Olvides — Monica Saldivar & Shelly Lares — WINNER!
Yo Te Daba Todo — Destiny Navaira & Jose Adan Esparza
BEST NEW MALE ARTIST
Hernan Hernandez, Jr (Suenatron)
Javier Soliz
Joe Lara
Leeroy Camarillo (Magnifico 7) — WINNER!
Rocky Beltran (Mike Gonzalez & The Iconiczz)
BEST NEW FEMALE ARTIST
Di Marie (Mike Gonzalez & The Iconiczz) — WINNER!
Hilda Lamas
Laura Denisse
Madison Pulido
BEST NEW GROUP
Joe Lara Y Grupo Xprezzion
Jr Reyna Y Elegido
Laura Denisse Y Los Brillantes
Mike Gonzalez & The Iconiczz — WINNER!
VIDEO OF THE YEAR
Sunny Sauceda Y Todo Eso — Nino — WINNER!
Check Out Top Ten Tiniest Texas Towns You'll Miss If You Blink
Gallery Credit: Google Maps
More From KLUB Tejano 106.9