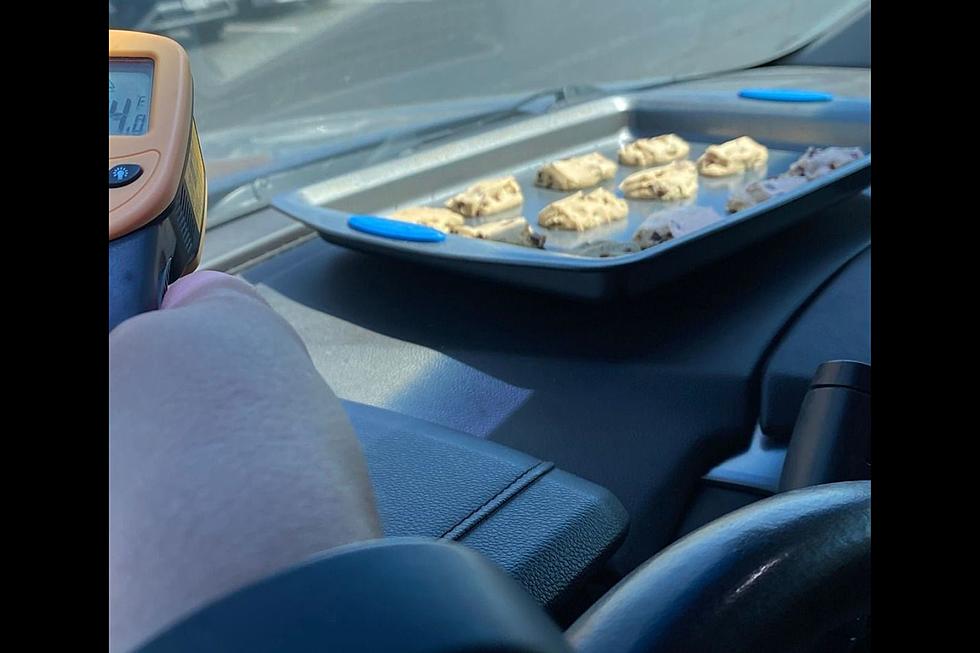 US National Weather Service Office in TX Bakes Cookies in a Car
U.S. National Weather Service (NWS)
The extreme heat in Texas has people doing some pretty powerful things. Just last week, a Houston area woman baked a loaf of bread in a mailbox. Here is another extreme post from our friends at the US National Weather Service in Midland, Texas.  The picture shows cookies baking on the dashboard of a car. The purpose of the post is to show how dangerously hot it can get inside a parked car with the windows up. According to the post, the temperature got as high as 194 degrees! The cookies were mostly baked after being in the car for over 4 hours.
---
---
A couple of weeks ago, It was so hot outside that a Texas woman has a baked oven in her mailbox.  According to many social media posts, Houston resident Roberta White pulled out a perfectly baked loaf of bread. I love everything about this photo, it is total grandma vibes. From the decorative baking pan to the ultimate grandma outfit. Check out the original social media post...
---
---
Viral Videos Comedically Shows Just How Hot It Is in Texas
There is no way around it, the heat is unbearable right now and there is no immediate relief.  Here is the kicker, it's not even summer yet, we are just warming up in Texas. One viral Tiktok puts a Comedic spin on the Texas heat right now.  The video was posted to the Dallas Texas TV Facebook page via Kreative Comedy and showed a guy getting a bag of ice from one of those ice machines located outside the convenience store. You can also find Kreative Comedy on Tiktok. These videos started making the rounds in 2022 but have started to trend again.
---
---
---
All joking aside, the extreme heat is dangerous. So if you are working outdoors, please take plenty of breaks, drink plenty of fluids, and listen to your body.
DOWNLOAD OUR STATION APP TODAY!
Here are surprising ways to stay cool this summer!
SURPRISING WAYS TO KEEP COOL THIS SUMMER
Have you heard of any of these?
More From KLUB Tejano 106.9