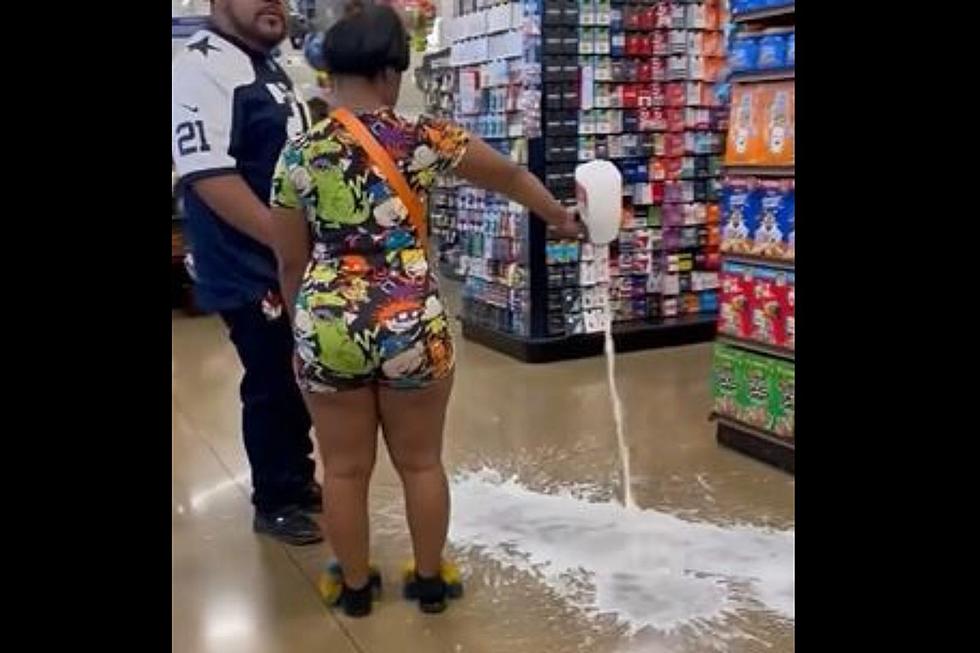 VIDEO: Texas Woman Throws Fit After Being Caught Stealing
Dallas Texas TV Facebook
In a video that has started to make the rounds on social media!  A woman is confronted for allegedly stealing at a North Texas, Tom Thumb. A man takes the bag of stolen goods from the woman. She takes exception and throws a fit. The video shows this woman throwing a tantrum and opening a gallon of milk just to dump it on the ground.  Check out the video below. The video does contain explicit language. The video was posted to the Dallas Texas TV Facebook page.
---
---
CHECK OUT THIS NORTH TEXAS CAMPUS:
The new Walnut Grove High School campus in Prosper, Texas, located North of Dallas. This high school facility is more impressive than some college campuses. The gym looks like a college court, the food court looks like a mall. They have an indoor practice for football and the weight room is on another level. Not to mentions state-of-the-art facilities for culinary and video productions. The photos are courtesy of Texas Football via X
THIS IS A HIGH SCHOOL GYM: 
FOOR COURT OR HIGH SCHOOL CAFETERIA? 
INDOOR PRACTICE FACILITY:
THE WEIGHT ROOM FACILITY:
---
---
MOST EXPENSIVE HIGH SCHOOL STADIUM IN TEXAS:
The most expensive high school football stadium in Texas can be found in KATY! Two years ago Legacy Stadium opened with a price tag of 72 million dollars.  The capacity is 12,000 and while there are bigger stadiums, capacity-wise, and bigger overall stadiums.  The amenities are what set this stadium apart.  Just check out that press box and VIP area up top.

The stadium is equipped with a large event space that overlooks the field.  The stadium also features luxury boxes for corporate sponsors.  Maybe $72 million might be a bit much, but then again, high school football is a way of life in Texas.
LOOK: The largest lottery jackpots in US history
Stacker
compiled a list of the 15 largest lottery jackpots in U.S. history from news reports and lottery press releases.
[This list is current as of July 25, 2023.]
More From KLUB Tejano 106.9