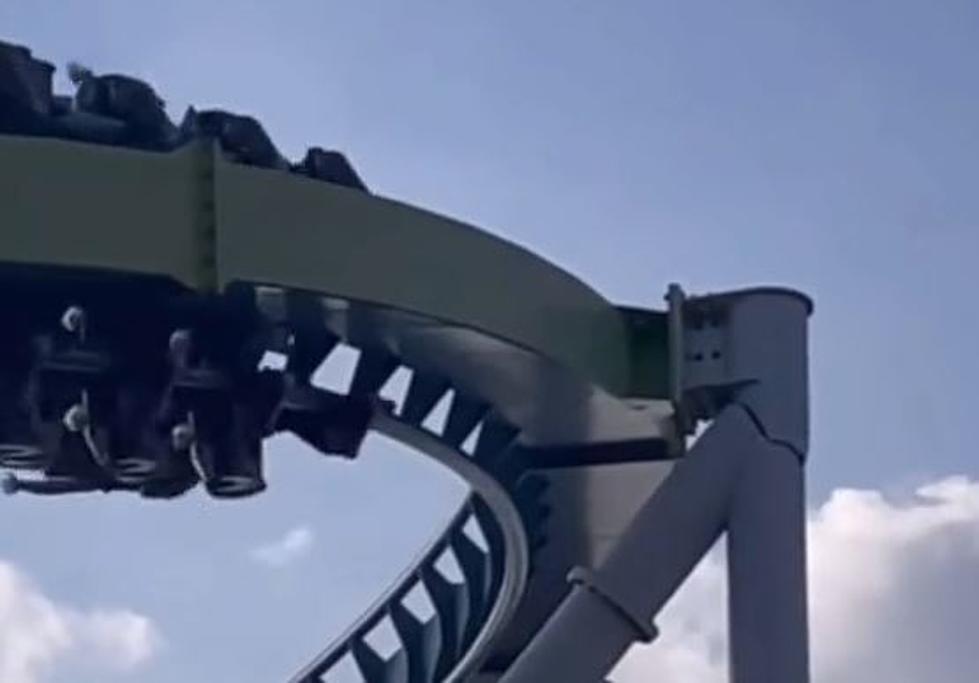 Viral Video Shows Massive Crack in Operational Roller Coaster
Jojoglyn TikTok
Because I am a coaster fanatic, this video has popped up many times on my TikTok feed over the weekend. It shows an operational rollercoaster swaying as the ride cars pass a cracked beam. Some people would call this the stuff of nightmares. I think this is great engineering! The fact that there is a crack in the beam and the ride still continues to function means it was built correctly. Of course, repairs are needed immediately and the ride has been shut down indefinitely!  Check out the video below. This video was posted to the social platform by jojoglynn.
---
---
According to news reports, this roller coaster is called the Fury 325 and is located at North Carolina's Carowinds Park! Investigators will be on-site Monday to figure out what happened after a dad spotted a crack at the top of one of its steel support pillars. Check out the ride in its entirety...
Couple Gets Engaged at the Top of Roller Coaster at Fiesta Texas
Nick Carlos popped the question to his now, fiance, Kelly at the highest point of Fiesta, Texas' newest roller coaster, Dr. Diabolical's Cliffhanger.  For a small fee they were able to walk to the highest point on the coaster, where he popped the question.  As you see, they are tethered for safety! Their love story is definitely 'thrilling.' Read their story below.
According to an article published by mysanantonio.com, the couple met at Fiesta, Texas back in July of 2017 for a commercial shoot. A couple of months later, while riding the Iron Rattler, they shared their first kiss. After three years of dating, Nick and Kelly started a Facebook page called the Quirky Coaster Couple and have been documenting thrill rides as a couple since then. What an amazing way to start an engagement! Read the full story by clicking here.
Have you ever ridden Dr. Diabolical's Cliffhanger? If not, check out the video below.
Dr. Diabolical was added to an already impressive lineup of thrill rides at Fiesta, Texas:  The Superman, The Goliath, Batman, Golden Lasso, Poltergeist, and the new Joker, just to name a few. As a thrill seeker, I think it is awesome to have so many thrill rides within driving distance of Victoria.  So I thought it would be cool to give you my top ten thrill rides in the state of Texas from the three big Theme Parks, Fiesta Texas, Sea World, and Six Flags Over Texas. It will also include my trips to Disney and Universal in Orlando. Yes I have ridden the newest ride Tron at the Magic Kingdom, and also Guardians of the Galaxy at EPCOT. So be on the lookout for an updated list very soon.
JP'S FAVORITE THRILL RIDES
More From KLUB Tejano 106.9