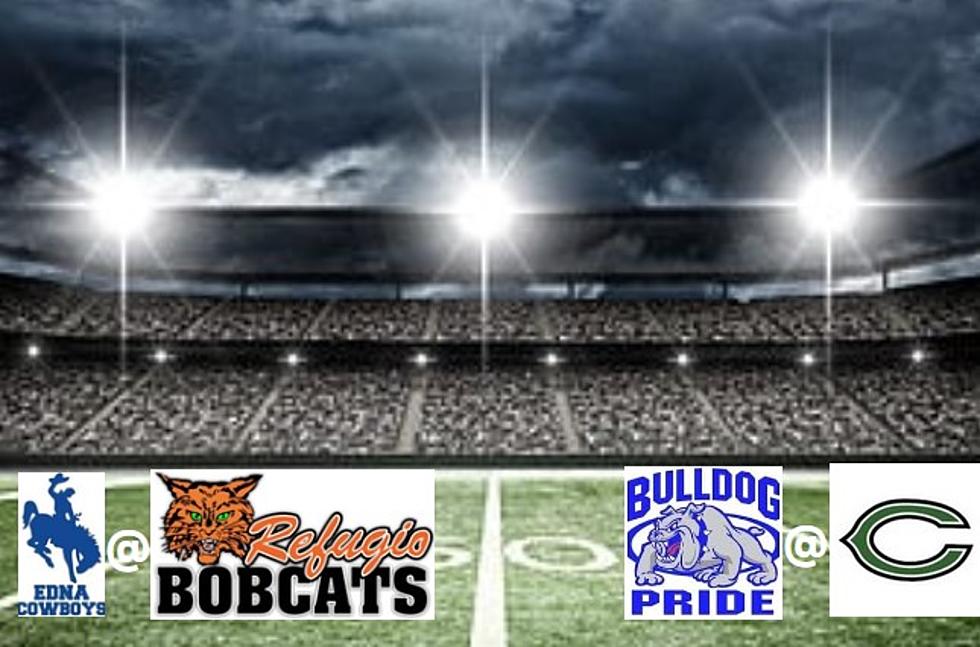 FINAL SCORES: Week 3 Crossroads High School Recap
J.Padierna.tsm/canva
This week's High School Football action included a storied small-town Texas rivalry in Yoakum and Cuero and it was everything a rivalry game was supposed to be! Bragging rights, this year go to The Cuero Gobblers with the final score of 41-34 over Yoakum. This week also featured a match-up with state powerhouses Edna and Refugio and it was intense!  With these two teams battling into double overtime! The Refugio Bobcats took a dramatic victory 42-41.  The energy at both games was off the charts. The Victoria Homeschool Cobra's will look to continue their hot start tomorrow at NOON in Beinavides.
WEEK 3 RECAP:
Gregory Portland 49(3-0)   Victoria East Titans 27(1-2)

Victoria West Warriors 25 (0-3) Alice Coyotes 36 (2-1)
Victoria-St Joseph Flyers 6 (1-2) St Andrews 22 (1-2)

Victoria Home School Cobras (2-0) at Benavides (0-2), SATURDAY AT NOON
Yoakum Bulldogs 34 (2-1)  Cuero Gobblers 41 (3-0)
Edna Cowboys 41 (2-1) at Refugio Bobcats 42 (2-1) 2-OT
Sinton 17(1-2) Calhoun Sandcrabs 26(2-1)
Bloomington Bobcats 42(2-1) Pettus 0 (1-2)
Industrial Cobras 26 (2-1) at Boling 21(2-1)
Ganado Indians 27 (2-1) East Bernard 35(1-2)
Brazos 46 (3-0) at Louise Hornets 12 (2-1)
Cole 6 (2-1)  Goliad Tigers 63 (2-1)
Shiner Comances 7 (0-3) at Poth 31(2-1)
Van Vleck (0-3) 0 Hallettsville Brahmas 46 (3-0)
Yorktown Wildcats 50 (1-2) at Woodsboro  0 (1-2)
PHOTOS: This Campus Just Opened in Texas – It's a High School!
THIS IS A HIGH SCHOOL GYM: 
FOOR COURT OR HIGH SCHOOL CAFETERIA? 
INDOOR PRACTICE FACILITY:
THE WEIGHT ROOM FACILITY:
---
---

MOST EXPENSIVE HIGH SCHOOL STADIUM IN TEXAS:
The most expensive high school football stadium in Texas can be found in KATY! Two years ago Legacy Stadium opened with a price tag of 72 million dollars.  The capacity is 12,000 and while there are bigger stadiums, capacity-wise, and bigger overall stadiums.  The amenities are what set this stadium apart.  Just check out that press box and VIP area up top.

The stadium is equipped with a large event space that overlooks the field.  The stadium also features luxury boxes for corporate sponsors.  Maybe $72 million might be a bit much, but then again, high school football is a way of life in Texas.
SEE PHOTOS: BIGGEST HIGH SCHOOL FOOTBALL SATDIUMS IN TEXAS, BY CAPACITY
Enter your number to get our free mobile app
More From KLUB Tejano 106.9