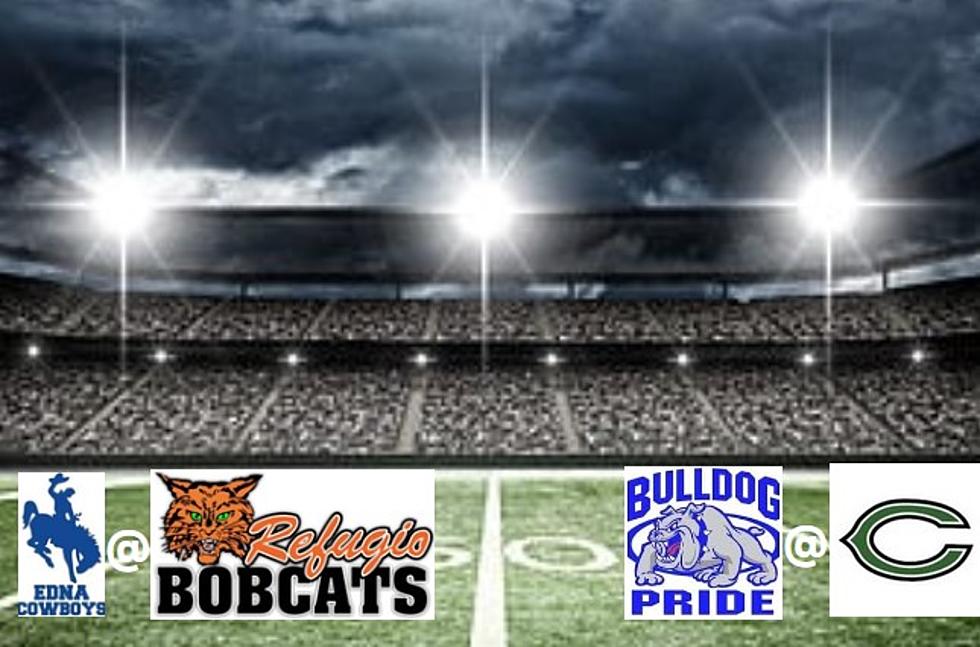 WEEK 3: Crossroads High School Football Schedule
J.Padierna.tsm/canva
In week 2, the Industrial/Shiner game definitely lived up to the hype with Industrial coming away with the dramatic late victory, 41-34. The Edna Cowboys and Bay City game also came with stiff competition with Edna taking the win, 28-21! How about some love for the Victoria Home School Cobras, they have quietly started at a perfect 2-0. They will play at Beinavides this Saturday at noon.
Heading into Week 3, we have a couple of marquee non-district matchups including the storied Yoakum Bulldogs (2-0) at the Cuero Gobblers (2-0) rivalry matchup. Another epic area match-up with the Edna Cowboys (2-0) at Refugio (1-1). The Victoria East Titans, West Warriors, and the St. Joseph Flyers are all looking to get back in the win column.
WEEK 3 CROSSROADS HIGH SCHOOL FOOTBALL SCHEDULE:
Gregory Portland (2-0) versus Victoria East Titans (1-1), 7 PM Memorial Stadium
Victoria West Warriors (0-2) at Alice Coyotes (1-1), 7:30 PM Alice
Victoria-St Joseph Flyers (1-1) at St Andrews (0-2), 7 PM
Victoria Home School Cobras (2-0) at Benavides (0-2), SATURDAY AT NOON
Yoakum Bulldogs(2-0) versus Cuero Gobblers(2-0), 7:30 PM Gobbler Stadium
Edna Cowboys (2-0) at Refugio Bobcats (1-1), 7:30 PM Refugio Bobcat Stadium
Industrial Cobras (1-1) at Boling (2-0), 7:30 PM
Ganado Indians(2-0) at East Bernard (0-2), 7:30 PM
Brazos (2-0) at Louise Hornets (2-0), 730 PM
Sinton (1-1) versus Calhoun Sandcrabs (1-1), 7 PM Sandcrab Stadium
Cole (2-0) versus Goliad Tigers (1-1), 7:30 PM, Tiger Stadium
Shiner Comances (0-2) at Poth (1-1), 7:30 PM
Van Vleck (0-2) at Hallettsville Brahmas (2-0), 7:30 PM, Brahmas Stadium
Yorktown Wildcats (0-2) at Woodsboro (1-1), 7 PM
HIGH SCHOOL FOOTBALL COACH HUMBLES TEAM:
Sometimes during the heat of any sports game, passion for the game and competitiveness take over. Sometimes a line is crossed between competitiveness and bad sportsmanship. This was the case this past Friday night during a North Texas High School game featuring Melissa High School and China Spring. At one point of the game, Melissa was up 34 - 7.
Something happened shortly before the below video, whatever it was had Melissa's head coach fuming, not by the officiating, but by the acts of poor sportsmanship by his own team.  So he took action immediately and made his team do up-downs on the field to show his team that their actions would not be tolerated. You can also hear the commentary in below video followed by the applause of the crowd on both sides of the stand in support of the coach's decision.
What a teaching moment from this coach. He understands that being a football coach is so much more than what happens on the field.  All the comments support this coach's actions. What do you think?
---
---
SEE PHOTOS: BIGGEST HIGH SCHOOL FOOTBALL SATDIUMS IN TEXAS, BY CAPACITY
More From KLUB Tejano 106.9